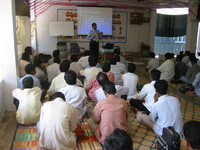 PROJECT 9: LEADERSHIP TRAINING

Nearly 300 Pastors and Lay Leaders attended these conferences conducted by Dr. David Sumanth, in AP at different churches and for World Vision.

Topics related to Time Management, Mission Statement, Strategic Planning, Goal-Setting and Evaluation of Goals, etc. have been part of this training - to equip them and provide them with the tools and skills to do their ministry more effectively and efficiently without burnout.